Because just "cream cheese stuffed" is just too darn boring…
So if you're anything like me, always perusing Pinterest for cool new party-platter recipes, then you probably have a pin called "Cream Cheese Stuffed Jalapeño Poppers". Take it from me: DON'T WASTE YOUR TIME!!!
I followed the recipe exactly – seemed simple enough.
De-seed peppers, stuff with cream cheese, wrap with bacon. broil until crispy.
Then came the eating… Bacon, yum! though excessively greasy and it causing the cream cheese to liquefy something fierce (and fattening). Everything sounded so good in my head until I bit in, and the result was horribly underwhelming. BOOOOOOO, Pinterest-fail again!
But I just couldn't give up on the idea. How could something with bacon, and jalapeños turn out to be so damn boring!? One party evening it hit me! I had fried up some french fries for all these perpetually hungry boys and had decided to make feta dip (my all-time favorite cloned recipe from an Athens, GA hometown favorite, The Grill) because I love it so much. So I set out to determine if my feta-based liquid bliss could fix these boring Pinterest poppers.
Spoiler Alert: It totally does.
Ingredients:
~7 Jalapeños (1 per every two bacon slices)
Bacon Pack, thick or regular cut is fine (Normal sized packs have ~15 pieces); shoot for 50:50/60:40 fat to meat ratio with it being well spaced. Heavy meat bacon doesn't crisp well. See first example photo for an idea.
1 8oz pack of Cream Cheese, softened
1 4oz container of Feta Cheese
2% or heavier Milk
Minced Garlic
Peppercorn Medley Grinder
Sea Salt Grinder
Dill Weed
Disposable gloves
Directions:
Step 1: Remove your bacon from the pack and put it all into the pan broken apart like I've done here. Turn the stove to medium heat, and put a lid on it. Rotate it every couple of minutes. It SHOULD NOT get brown, the colors will just "washout" some. All we're doing here is rendering away some of the fat (so it doesn't end up in your filling) and steam-cooking the bacon so it's not raw going into the poppers (so you don't have to overcook the hell out of them to get them finished). If it's browning, turn down the heat and rotate it more frequently.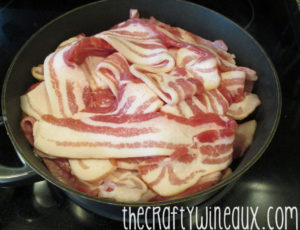 Step 2: While your bacon is cooking, prep your filling and jalapeños. Don't forget to turn your bacon periodically! Start by putting your feta cheese into the bowl.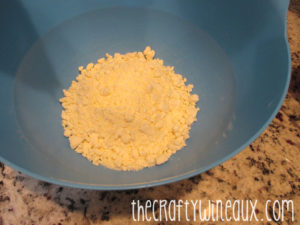 Step 3: Add the softened cream cheese into the bowl.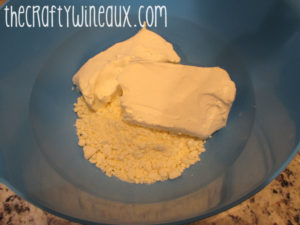 Step 4: Add the spices. To a certain extent this boils down to taste, so start with 1 teaspoon of Peppercorn Medley Grinder
, and fresh minced garlic. Add 1/2 teaspoon of dill weed and Sea Salt Grinder
to start. You can always add more once it's all together, but you can't remove it, so patience is a virtue. You do want the filling to be on the "zestier" side because the other flavors from the bacon and jalapeños will tone it down some.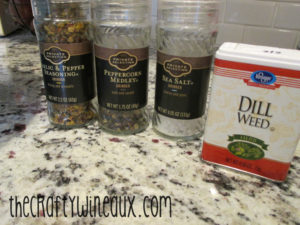 Step 5: Add a splash of the milk – like the spices, you can always add more! You want the final consistency to the filling to be on the thick side. It should take and hold shapes with ease and will likely tow around behind the mixer because of it's thickness – This is perfect! Don't forget that the heat will liquefy things and the last thing you want is to lose your filling to the bottom of the pan. When you think it's ready, have a taste. Add more spices or milk if you want them.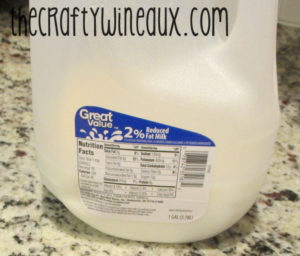 Step 6: Rotate your bacon if you've forgotten it!! Then you can start prepping the jalapeños. Usually I have Redding do this while I manage the bacon and filling since it's the perfect job for the non-cheffy type. Keep in mind that jalapeños and their innards are spicy and that capsaicin oils can burn the you-know-what out of mucus membranes, cuts, and definitely small children. If you get covered in it, it is very hard to get off and cure the burn, so use gloves! Don gloves and rinse your veggies.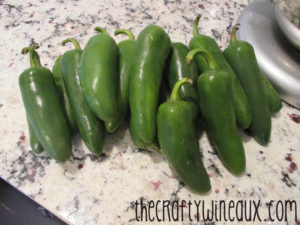 Step 7: Halve the jalapeños. I always try to buy jalapeños with stems and then cut them to get some of the step on each half. It gives people something to grab it by.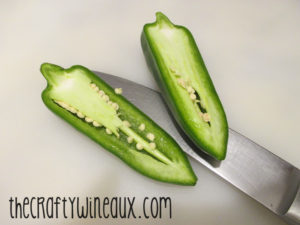 Step 8: Use a spoon (or grapefruit spoon, if you've got it!!) to scoop out the white parts and seeds of the pepper. Notice that Redding isn't wearing gloves here, and he definitely regretted it… You can discard the white parts and seeds – just keep them out of reach of children and pets.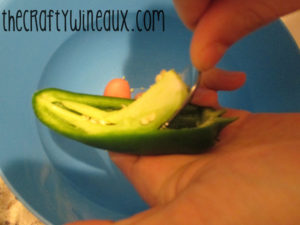 Step 9: Pull out your bacon and drain it on a paper towel lined plate. At this point, you may be seeing the slightest hinting of brown, but it will be mostly white and pink. It should still be very flimsy and malleable, but importantly it is steam cooked at this step, so you could honestly eat it if you wanted to. But you wouldn't. If you want to learn to make fried green tomatoes, I recommend keeping the bacon grease. 🙂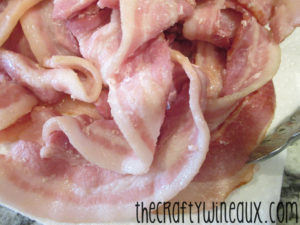 Step 10: Get the pan ready. For visualization, I used a basic cookie sheet this time, but something with higher sides is helpful for containing the splattering grease when the bacon is crisping. Pyrexes or brownie tins work really well. Put down foil (to help with the mess) and a quick coat of Pam/cooking spray really simplifies things!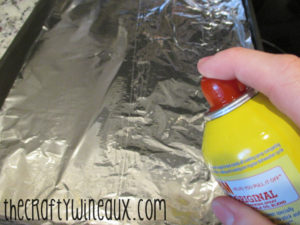 Step 11a: Start filling your peppers! I just use a spoon to blob some filling in…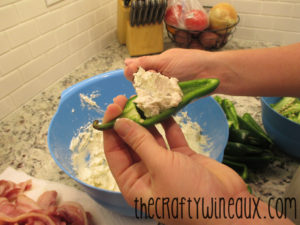 Step 11b: … and then I use the back of the spoon the smash the filling into the pepper. You want the top of the filling to be in line with the top of the pepper. The filling is thick and sticky and can be very frustrating. I use the "scraping it off on the edge" method of making this work for me.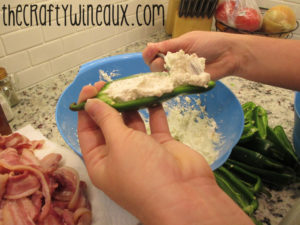 Step 12: Wrap each filled pepper half with a whole piece of bacon. Try to use that natural floppy cooked bacon curvature to your advantage. The nice part of pre-cooking the bacon is not only that we've subtracted a lot of the fat, but we've also shrunk the piece of bacon most of the way down. This means you'll have an easier time having the bacon lay on the pepper the same after broiling as it did before. This being said, some people choose to use a toothpick or skewer to keep the bacon in place, and that's totally your prerogative. Usually, I'm too lazy and done by this point to bother, to be frank.

Step 13: Turn on the broiler part of the oven to high.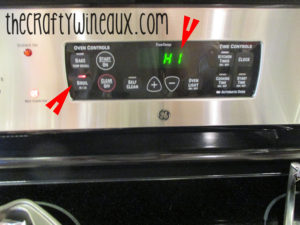 Step 14a: Arrange your poppers on the pan so they're at least an inch apart. Put them in the oven on the top shelf right under the broiler.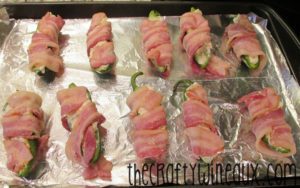 Step 14b: Alternatively, you can pack up the wrapped, but not finished peppers and put them in the fridge. This time, we ate them over 5 days (because that's how long we were able to resist eating them all…). I also like being able to throw a second batch in half way through a party so there's always hot ones around.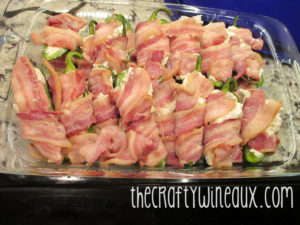 Step 15: Broil the peppers for anywhere from 10-30 minutes depending on how crispy you prefer them. Keep an eye out to make sure they aren't burning (you can move down a rack if this is an issue) and keep an eye for flare ups. This step ABSOLUTELY WILL splatter some grease around, so always keep track so you don't accidentally have a fire. If yours unwrap like some of these have, DON'T PANIC! It's really easy to roll them back up if they come undone – remember how sticky that cheese was…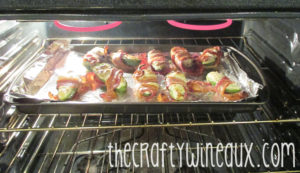 Step 16: When your satisfied with the crispiness, pull out your peppers and drain them on a paper towel lined plate. Serve hot, but be warned about the possible temperatures inside the filling. Don't be surprised when you realize you didn't make enough!! Enjoy!