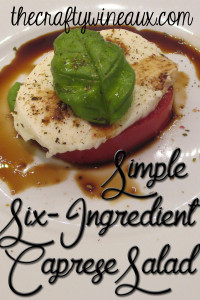 Perfectly Simple, Yet Elegant, Six-Ingredient Caprese Salad
…as served at my bridal shower!












Ingredients:
– 2 Medium Tomatoes (I prefer the "on the vine" variety that Kroger has for their flavor – slicer and roma tomatoes don't have any good flavor and are mostly water – As a point of reference, if the tomato is easy to cut without squishing, then it's not going to be flavorful enough for this dish.)
– 1 Ball of Fresh Mozzarella (Get the good stuff from the cheese counter, not from the refridgerated section by yogurt)
– Fresh Basil
– Garlic and Peppercorn Blend Grinder
– Sea Salt Grinder
– A Mid-Range Balsamic Vinegar (and definitely not one that's been reduced to a super sweet syrup!)

Instructions:

Step 1: Wash your veggies and then slice the tomatoes and mozzarella thickly (my average is ~1/3″/slice).

Step 2: Arrange the tomatoes on the plate they'll be served on. For my shower, we served one individual stack on small plates like in the photo and they were beautiful!
Step 3: Grind a small amount of the Garlic and Peppercorn Blend Grinder and Sea Salt Grinder onto each tomato slice. This is just a small amount of seasoning and you'll taste everything, so don't go crazy. It's just to disperse the good flavor throughout.
Step 4: I like to tear 1-2 leaves of basil and arrange them on the tomatoes at this step. I find it disperses the flavor and makes it easier to cut. Less pretty, but easier to eat for sure.
Step 5: Set one slice of mozzarella on top of each tomato slice. If I'm shooting for the elegant look, I put one leaf of basil on top of each here, but you'll find when you try to slice this and eat it, that basil leaf can be a colossal pain in the you-know-what to cut through.
Step 6: Grind a little more pepper+garlic and salt on top of each. Finish with a drizzle of Balsamic Vinegar and serve! Enjoy!